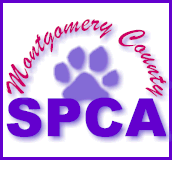 Montgomery County SPCA
Society for the Prevention of Cruelty to Animals
Serving Maryland, Virginia, and Washington, DC since 1973




The Montgomery County SPCA
In memory of Pauline Buel
Polly Buel, founder of the Montgomery County (MD) SPCA, crossed the Rainbow Bridge Monday morning, December 29, 1997. We're sure she was greeted by the scores of cats and dogs she helped throughout her 80 years. Many homeless ones waited just for Polly, the only human who ever cared for them. Others, pets that Polly placed in permanent homes, have their own special person to wait for, but all owe Polly a debt of gratitude.
Polly helped start a humane society in Virginia before moving to Maryland. When she came to Montgomery County, she worked with another animal welfare group and in 1973, Polly, with her daughter Linda and a friend, Mary Sue Rubin, founded the MCSPCA. Polly converted a small building on her property into the present SPCA shelter.
Although the building had no running water, Polly never, ever, complained about the hordes of volunteers tramping through her living room to bathe cats, clean dishes and litter boxes, or wash load upon load of towels and cat beds.
Polly considered spaying and neutering the most vital work she did . "I just got tired of people hauling puppies and kittens in. I started talking to people about getting the mother spayed, but they said they couldn't afford it," she once told a reporter. As usual, Polly didn't just complain; she took action and started the SPCA's low-cost spay/neuter program. The SPCA now works with 25 area vets to spay and neuter pets.
Polly's great wisdom and experience, along with her pithy wisecracks, will be desperately missed by all who knew her.